Online Coaching Clients:
"I've always been the girl who was terrified of gym class growing up, I never played sports, I've never felt strong..till now. Roy has helped me move mountains. Just looking at pictures he knew what I had problems with (which blew my mind). He's a straight shooter and will tell you what works and wont work. Each workout is tailored to you, unlike other fad programs out there. As a women I was scared I was going to lose my curves, that so wasn't the case. If you want to change your body for the better, to feel less aches and pains, and to just feel strong, Roy's your guy. It's only been 3 months and I can't wait to see what another 3 months will bring. "-   Michelle Hintze
Michelle's 3 Month Progress Pic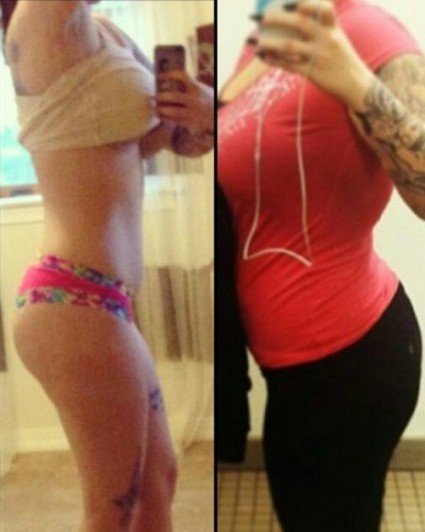 "Roy's success as a personal trainer can be attributed to a combination of personal physical strength and experience as an athlete, understanding and use of evidence-based training methodologies, and unique insight about individual body mechanics and movement.  His priorities are safety and overall health while keeping his individual client's goals in mind.  From the beginning, Roy has understood my physical weaknesses and mental obstacles and has always helped me find strategies to improve them while never letting me back-slide.  He holds me accountable while providing me with the necessary support to discover what I am capable of.  He was the first person that ever told me I could be strong, and not just a little bit, but really a force to be reckoned with.  He has aided in the development of a healthy, female body image, control over my physical person, and confidence beyond what I imagined possible.  I am medically healthier at 25 than I ever have been with excellent cardiovascular health and almost complete resolution of moderate to severe shoulder pain from an injury that occurred in adolescence. "- Christine Kwiatkowski
Christine's 2 Month Progress

"I lived a lot of my life believing in the limitations impressed upon me throughout my childhood and adolescent years. You shouldn't lift anything, here let me carry that, oh you'll hurt your back! Women are not as strong as men. You know, the standard stereotypes. A little over one year ago I signed on with Roy to do some distance training. My main motivation was seeing results of his clients on Facebook and thinking "Wow she looks amazing. If she can do it, I can do it too!" I put all of my own misconceptions about lifting aside and I started Roy's program. I got hooked quick! So quick that it is no problem now for me to wake up at 4:45 am on week days to get to the gym. It's my lifestyle now. I am stronger than I have ever been in my life. I am lifting heavier than I ever imagined I could. I have more energy than ever. My anxiety has decreased. And one of my favorite results of Roy's program is this: I have not gotten sick since I started. You heard that right. This coming from the girl who could count like clockwork on catching something everything 3 months or so. I encourage anyone who visits his page to give him a try. You can not beat his distance training rates, they are amazing. And what's the worst that could happen? You just might end up healthier and happier." –Brie Keggins
Roy will help you get the results you are looking for. He will give you the tools, knowledge and support to make it through. I won't blow smoke up your *ss. While Roy gives you all the tools, you still have to put the work in. You get out, what you put in. It will be hard, the weight will feel heavy at times, but you'll hear his voice in your head, "Get tight. Breath in. Push through. Crush that sh*t!". One thing I learned early on is to send in your videos! They are an integral tool in breaking down your movement and perfecting it to get the maximum out of an exercise. Roy will break it down frame by frame , and tell you exactly how to make it better. He has a great way of explaining how and why, and then simplifying for the novice.
I started Online Training with Roy almost 2 years ago. I have a business that can be taxing on the body especially if you're not taking care of it, which I was failing miserably. My goals haven't really changed since I started, I've just upped the ante as I go along. I needed to make my body stronger, and it's happening every day I put the work in. I can't tell you how many times females come up to me at the gym to commend me for lifting such heavy weights and rockin' it out. But every time they come up to me, I always tell them, you can to!
You won't be bouncing around with little 5 pound weights in your hands to Taylor Swift in some gym class. You're gonna sweat. You'll breath heavy. Do whatever you need to do to get through. But you will get strong. While other people's bodies are falling apart, you will have a strong body with Roy's help.
P.S. Feel free to lift to Taylor Swift if that what your motor going -Angel Kidwell, Kidwell Photography 

Check out her work, click the pic.
Personal Training Clients:
"Roy is a consummate professional.  His personal training is efficient and effective, as he has mastered the science behind exercise as well as the art of coaching.  I began training with Roy in 2012 as a 59-year-old overweight, sedentary client.  Today I am active, healthy, and of normal weight.  Roy patiently taught me fundamental movements and exercises, taking me on a journey to fitness.  He is direct and practical in his approach but never harsh or negative.  In coaching virtually every repetition of every exercise, Roy is consistently helping me improve my strength and overall condition.  He relies on evidence based practices tailoring my program accordingly.  The workouts are challenging and invigorating without being overwhelming.  I always look forward to my training sessions and leave feeling even better!  Roy skillfully helps me set and achieve my goals as well as work through plateaus and set backs, which have been few.  And for me, the results have been nothing short of miraculous.  I wake up every day feeling great and have the energy of someone half my age.  Roy takes pride in his work and the accomplishments of his clients, holding himself to a very high standard.  He is experienced and credentialed, taking his work seriously, knowing that he literally holds the health of his clients in his hands. Roy gives personal training a very good name.  In short, he is the best!" – Diane Coughlin
"Roy is a tough love kind of trainer. His first priority is to help you reach your goal, and he is not afraid to push to help you get there.  When I first started lifting with Roy, I couldn't do a push-up. I was discouraged at first, but he somehow strikes the perfect balance between patience and encouragement, and no-nonsense, work-hard training. Roy has a way of making you expect more from yourself. To that end, after 10 years of lifting with Roy in a casual setting, I decided to compete in raw powerlifting and recently put up a combined squat, dead-lift and bench total of 612lbs at a body weight of 123lbs, with which I won my division and broke several state and national records. If you bring the drive and commitment, Roy will bring the winning strategy. " –Danielle Vaziri
 Danielle at her First Powerlifting Meet: