If you're gonna try and get and or be strong in a garage gym….
You're Gonna Need a Good Bar….
Bells and whistles are nice, but a rack, bench, weights and a good bar are the most essential pieces of equipment.
All you need is a rack, barbell, platform and some weight.– Jim Wendler
If you have those you can kick more ass than all of the Planet Fitness's combined..
From Dustin Thomas's Super Awesome Blog For Cool People
I know, that's a VERY low hurdle to jump over…. So when I recently moved and had the opportunity to build a garage gym of my own I needed a bar but I wasn't sure which one to get.
Things you I look for in a bar:
I wanted a powerbar, I don't do any Olympic lifting and I wanted the middle knurling and power ring marks.
I wanted a high weight test bar….cheap bars bend, sometimes with 200lbs on the bar, and that's not gonna cut it.
I wanted a bar with good deep knurling. I don't care about sore, torn up hands…I care about a bar that doesn't move on my back when I'm squatting.
The gold standard in the world of (affordable, all around) powerbars is The Texas Powerbar by Buddy Capps.
Pic From www.wwfitness.com
And I'm VERY partial to The Texas Powerbar after lifting with one regularly for the past 2 years.
The Texas Power Bar has very deep knurling so you can really grip the h@ll out of it and a great center strip of knurling so it doesn't slide down your back along with just the right amount of stiffness <——-i.e. the bar doesn't bend with 315lbs on it but has a little "give".
Soooooo when I was in the market for a new bar this was the bar I considered first.
But didn't get.
I went with blind faith and good customer reviews and got a Rogue Power Bar.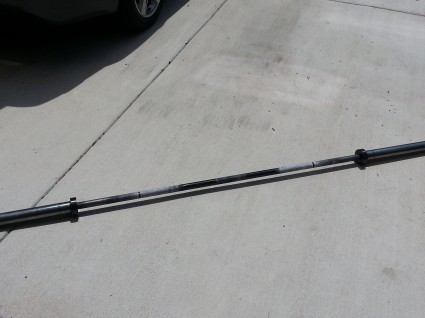 That's my bar….on my driveway. Photo Cred: ME
Why?
I could get the bar within a week and the Texas Power Bar would take 2-3. Rogue as a company gets great reviews consistently, even though a lot of those are from the CrossFit Kool-Aid Brigade and I'm pretty sure it has more to do with:
"They're one of us"
rather than,
"The equipment is the best"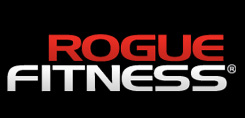 But anyway that's the bar I went with and after almost a year I can honestly say it's a very good, not great, bar.
It's got good balance and stiffness but the one detractor is that the knurling is pretty light for my preferences.
Rogue does this with the knurling on purpose so it's not as rough on the hands but still has good grip and that's true.
Unlike the Texas Power Bar which can will tear your hands open, the Rogue Power Bar is much easier on the hands but because they use the same knurling on the center as they do on the hand grips the bar DOES want to slide on the back more than a Texas Power Bar.
That's literally the only detraction I can find.
If I had the choice of the two straight up, I'd still go with the Texas Power Bar, but that's based entirely off my preference for a heavy knurl.
If you really don't like heavy knurling but still want good grip The Rogue Power Bar is a nice all-around bar.
That's my boss-ass setup bitchessss.